Method of working Schoenmaker
corporate legal advice & mediation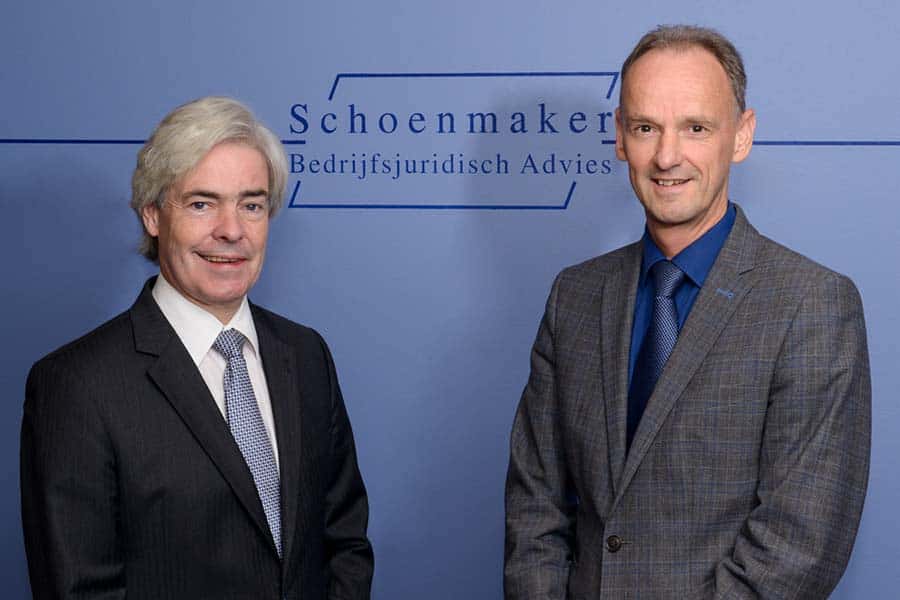 Legal support for business operations
Contracts with buyers or suppliers, employment contracts, intellectual property protection, zoning or business law. A business owner faces a variety of legal issues in the course of running a business. After all, entrepreneurship is more than just commerce or professional technology. This is precisely why it is important for you to be supported by experts in the field of company law. Schoenmaker Bedrijfsjuridisch Advies & Mediation wants to play a role in that.
We can assist you from the start of your business, but you can also call on us in the interim. The sooner and better you have everything in place legally, the easier it will be to avoid problems. And with it, claims, costs and other things you don't need.
Our working method: "Quickly in action for you".
As an experienced interlocutor, we will spar with you on a variety of topics that require a legal approach. We act quickly: after your initial phone call, we can often sit down with you the same day.
In most cases, our clients place all corporate legal matters with Schoenmaker Bedrijfsjuridisch Advies & Mediation. It also happens that we are called in for ad hoc situations. And sometimes an intermediate form is chosen in which our legal advisors provide their services.
Our approach to a variety of areas of law
Our specialties focus on those areas of law that a business owner might face:
In the area of personnel: employment law.
Relationships with customers and suppliers, both national and international: contract law.
Renting and leasing: rental law.
Anything to do with your business: business law.
ICT matters in the broadest sense: ICT law.
Trade name, patent, design, trademark and other types of right or licenses: intellectual property protection.
How to deal with permits and zoning: land use planning.
When an issue is outside of our area of expertise, Schoenmaker Corporate Legal Advice & Mediation works closely with lawyers, accountants and tax advisors who are in line with our approach.
International client portfolio
Ben Heijmeijer possesses a wide range of language skills. English, German, French and Russian are some of the languages he has mastered. This has helped our firm to enjoy a large client portfolio of international composition. Moreover, over the years we have built up an extensive business network with foreign law firms. Those contacts enable Schoenmaker Bedrijfsjuridisch Advies & Mediation to serve clients in many areas.
Mediating conflicts
Ben Schoenmaker is our MfN registered mediator. In that role, he fulfills a role as a mediator in conflicts between business parties, or is a mediator for individuals.
Mediation involves the following situations, among others:
Business conflicts between entrepreneurs.
A conflict between an entrepreneur and his employees.
Family problems, such as in a divorce or the division of an estate.
Neighborhood squabbles.