Schoenmaker
corporate legal advice & mediation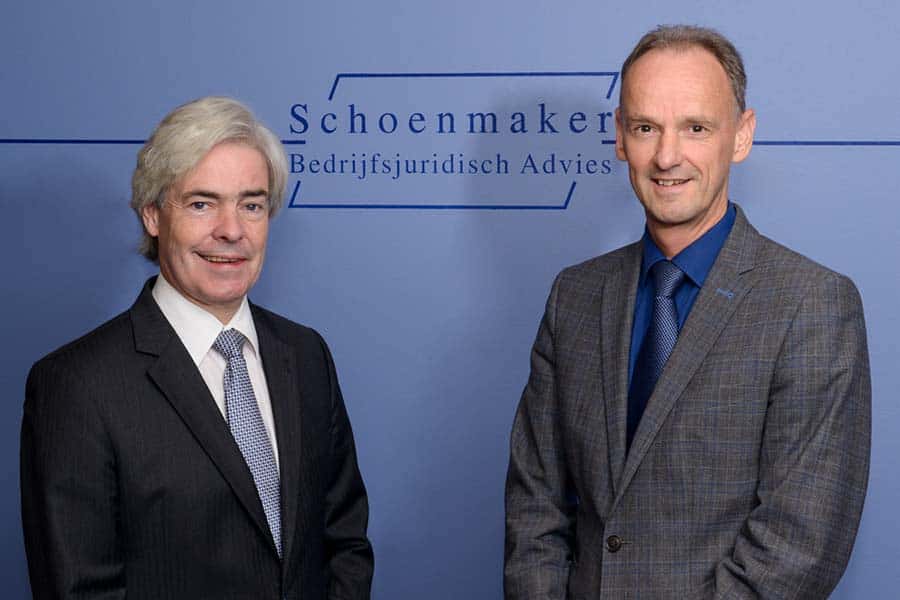 Proactive thinking on legal matters
Entrepreneurship is a challenge! If things work out the way you envisioned when you started, it's nice. But it doesn't always work out that way. As a business owner, you thought you had your affairs in the best possible order. Both at the organizational level, and at the contractual level. But sometimes a hitch occurs. A customer who won't pay. A competitor "hijacking" your novelty. Problems in ICT. Or a labor dispute with a staff member. Shareholders or partners having disagreements. A municipality that refuses the permit. So more can go wrong, and that's exactly what you don't want.
To be assured of a good legal foundation for your business at every moment of doing business, Schoenmaker Bedrijfsjuridisch Advies & Mediation thinks and acts along with you.
Sometimes we choose a different angle in doing so. Together with the entrepreneur, we step out of the hectic day and look at not only how the problem is legally situated, but also how it could be solved practically.
Schoenmaker can legally serve you with:
Labor Law
Employment conflicts, the procedure surrounding a dismissal, reorganization? These are all issues that you, as a business owner, may have to deal with and that need to be properly regulated.
Contracts
Agreements are an indispensable basis for good business. How do you record that unambiguously? Or what to do if a contract is not fulfilled?
ICT Law
In the field of ICT law, there is a broad enumeration of points that entrepreneurs should keep a close eye on in the legal field.
Corporate Law
Anyone starting a business will need to get their legal affairs right beforehand, especially if there are multiple owners . If the business has been running for a while, then an update is advisable, a 'legal MOT'.
Spatial Planning
The possibilities for use that an entrepreneur wants for his business location sometimes do not correspond with the (zoning) plans that a municipality has for a certain area. Timely and appropriate action is then called for.
Mediation
When the chips are down between the parties, using a mediator often leads to a more appropriate, quicker and cheaper solution than going to court.
Schoenmaker Advice solves problems adequately
Based on our years of expertise, we will come up with an advice on an adequate solution. Of course, we also help with taking necessary steps.
This could mean, for example, updating your trade contracts. Or file a claim and initiate recovery proceedings. Rather, we avoid time-consuming and costly procedures, because they usually also mean the end of the commercial relationship. Then it is better to engage in a constructive conversation with the other party. Possibly through mediation, one of our specialties. The parties then maintain maximum direction in achieving a solution that is appropriate for them.
Good legal form and clear agreements
You can also engage us at an early stage. Then we will take a constructive look at the right legal form for your company. We clearly draw up the agreements between shareholders or the partners for you. Or contracts with staff. Furthermore, the protection of your intellectual property can be guided by Schoenmaker Bedrijfsjuridisch Advies & Mediation. And if a municipality with its rules stands in the way of your expansion, we will find a solution to adjust or deviate from the zoning plan. Interim legal "vetting" of your business for current regulations, like a car MOT, is another option.
These are some examples of topics that we, as corporate lawyers, take up and thus help keep the entrepreneurial risks for you legally manageable.
Familiar with many industries
Since 1991 we have been working for corporate clients – in the Netherlands and abroad – in a wide range of sectors. From floriculture to logistics, and from accountancy to very different industries. Within our large international network, we can call in foreign experts where necessary.
Ben Schoenmaker and Ben Heijmeijer are the two experienced lawyers at our firm who take care of these tasks.